Please remember to use the Editor account before making any template changes





Second you must have all ready a template you can edit.



If you have not done this please read HOWTODOIT



Ok all that done you now goto Your admin panel --- 3. Styles --- Portal Settings



You will now see a screen that looks like this





If you do not already see a portal named

KARMA

then (if you do then IGNORE The

Steps 1-5

)

1.Click on the Blank box icon that looks like this
Now you see a screen like this




2.Add

KARMA

to the name

3.And then what you want in the Title.

4. Click Create New Portal

5. Now goto admin panel --- 3. Styles --- Edit Templates/Logos -- the template you wish to edit (EG myff_howtodoit1)--- Submit

Now look at the bottom in the area marked

Choose Portal template File to Edit

use the drop down bar and find[/b]



cms_karma.tpl





Now copy this code into that file






You can change the rank to which image you want.

6b. KARMA_TOTAL





6c. KARMA_COUNT







Now click submit


7.

You Can Change The bit below in bold in admin panel --- 3. Styles --- Portal Settings --- POPULAR to suit your forum by using the guide below






The Guide below is ONLY for those that wish to edit or move the code to a place not given in the drop down bar in the screen above.








Admin Panel --- Styles Admin---Edit Templates/Logos



Now by using the drop down bar select the template you wish to edit.

Now by using the drop down bar Titled



Choose Forum template/javascript/css File to Edit



Now find

viewtopic_body.tpl


And add the following code where you wish it to show. So if you wish it to be

under Location

like i have on here then you find


And add the code afterwards



So the code would look like below




And add the code after so it would look something like this,
to one that suits you please remember it has to have the range of 0-5 so in other words its no good using a rank image with 10 hearts on it. You have to upload the images you wish to use do this by the standard method of uploading images to a template.



Ok now you are done and if done right should look like this.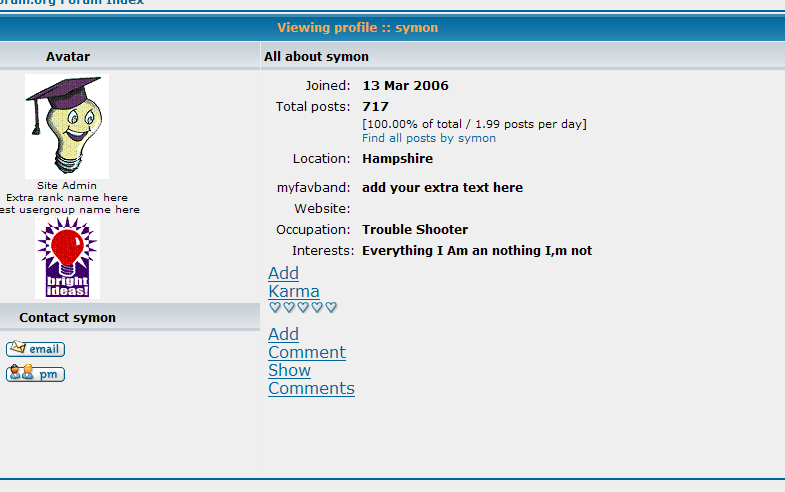 png[/img]