This guide is for the new

Offline / Online

mod.



Please remember to use the Editor account before making any template changes





Second you must have all ready a template you can edit.



If you have not done this please read HOWTODOIT



Ok all that done you now goto Your admin panel --- 3. Styles --- Portal Settings





You will now see a screen that looks like this






If you do not see the portals named

ONLINE

then Please go to the support forum and request admin adds them for you. (Please check properly first before requesting.)

Click On

ONLINE





You now see a screen that looks something like this.






Fill in the details to suit your needs. You can copy what i have in the picture this will work, or read the guide in the spoiler.





Image Link



If you do not want to use the default icons of




Then You must upload an image to your template and then just enter the name of the image for example icon_online.gif


Now in the Display Image box you would just add the name of your image for example online.gif

Now click Update.



And that is the basic guide on how to set up the Online Offline hack.




The guide below is for advanced users that wish to display the link or image else where. And for those that may wish to remove the old style



1.

Goto admin panel --- 3. Styles --- Edit Templates/Logos -- the template you wish to edit (EG myff_howtodoit1)--- Submit





Now look at the top in the area marked Choose Forum template/javascript/css File to Edit use the drop down bar and find





Viewtopic_body.tpl





Now place this code

Code:
Status: {postrow.POSTER_STATUS}<br/>

where you wish it to be.


So if you want it to show after their Username then you would find

{postrow.POSTER_NAME}

and place the code afterwards, as shown in the example below


To make the image work like i have here
using the
Follow the above but instead of


But remember

you must upload these icons to your template

to do this go to your

admin panel then edit template choose your template

then use the

upload image

to upload them

they must be called

icon_offline.gif

and

icon_online.gif







-----------------------------------------------------------------------------------------------------------

To make the image appear below the post like here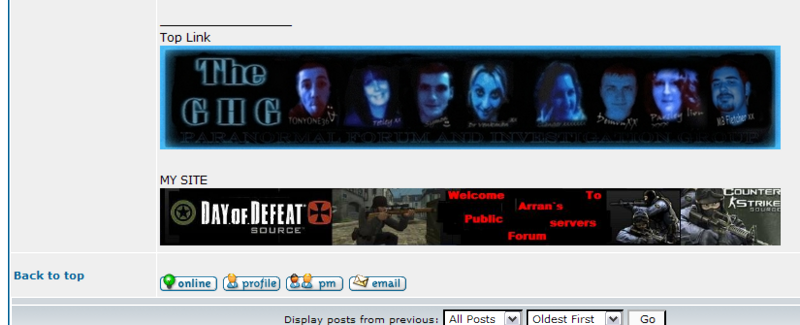 Then find similar to this (In viewtopic_body.tpl)
So it could look like this


-------------------------------------------------------------------------------------------------



To Make the text or image appear in your proflie like this: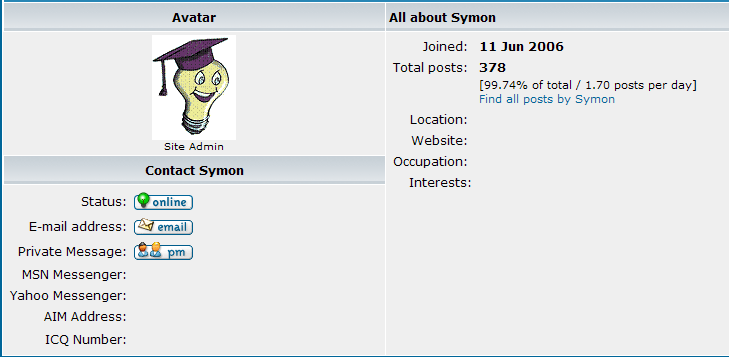 Then find the code similar to this in

profile_view_body.tpl
So it could look like this